GoDeer is a coded prototype of a mobile website. This website was created as a partner project for WNM 617 - Mobile Web Technology at the Academy of Art.
GoDeer was to be a mobile website that allowed the user to track and view deer sightings from their area. The user could also create an account to be able to share their own deer sightings and add a pin to the map.
The Process
Basic Ideation
We were hired by ANI-WHERE to create an animal migration tracker for an animal of our choice. We have decided to provide an app to track deer throughout the country. The reasoning for this is that deer are very common animals throughout North America and many different individuals would like to know of deer sightings.
Target Audience
The primary audience for this ANI-WHERE app will consist of individuals living in North America who are interested in tracking deer. There individuals could consist of biologists, photographers, and/or students. These same individuals need to be willing to want to share where they have had a deer sighting, so that others can see it as well. The secondary audience for this ANI-WHERE app would just be people who want to see deer in their natural environment.
User Technology Resources
The user will need to have a phone and/or tablet that has their GPS location enabled. This devices will also need to have at least wi-fi, but LTE is prefered.
User Tasks
For this ANI-WHERE app a user will be to view deer sightings in and around their area. Once a user logs in to the app though, they will not only be able to view the deer sightings near them, but they will also be able to share their sightings as well.
To view sightings the user will be given two different options. They will be able be able to view sightings in a map form, but they will also be able to view the sightings in a list view as well.
If the user wants to submit a sightings, they will be able to just place a pin on the user generated map. The user will also be able to share a photo of their sighting too, which is what will show up if the user chooses to view the sightings in list view.
The last thing that the user will be able to do is check their sightings is they want too.
Wireframe - Round One
About the Final Product
The Scope
The scope of GoDeer is to allow a casual deer watcher the ability to track and view deer sightings in their area. The user can also create an account to log their own spottings and share them with others.
The Sitemap
The Final Product Comes To Life
For this midterm project our group created a web app called GoDeer. The concept of this app is to help the user track where deer are in their local neighborhoods. The user can also log-in to the app to share a sighting of their own. While sharing their sighting the user can also upload an image of the deer they saw, if they were able to catch a photo of it.
For the design choices we decided to keep everything flat and clean along with using just vector style icons instead of actual images of things.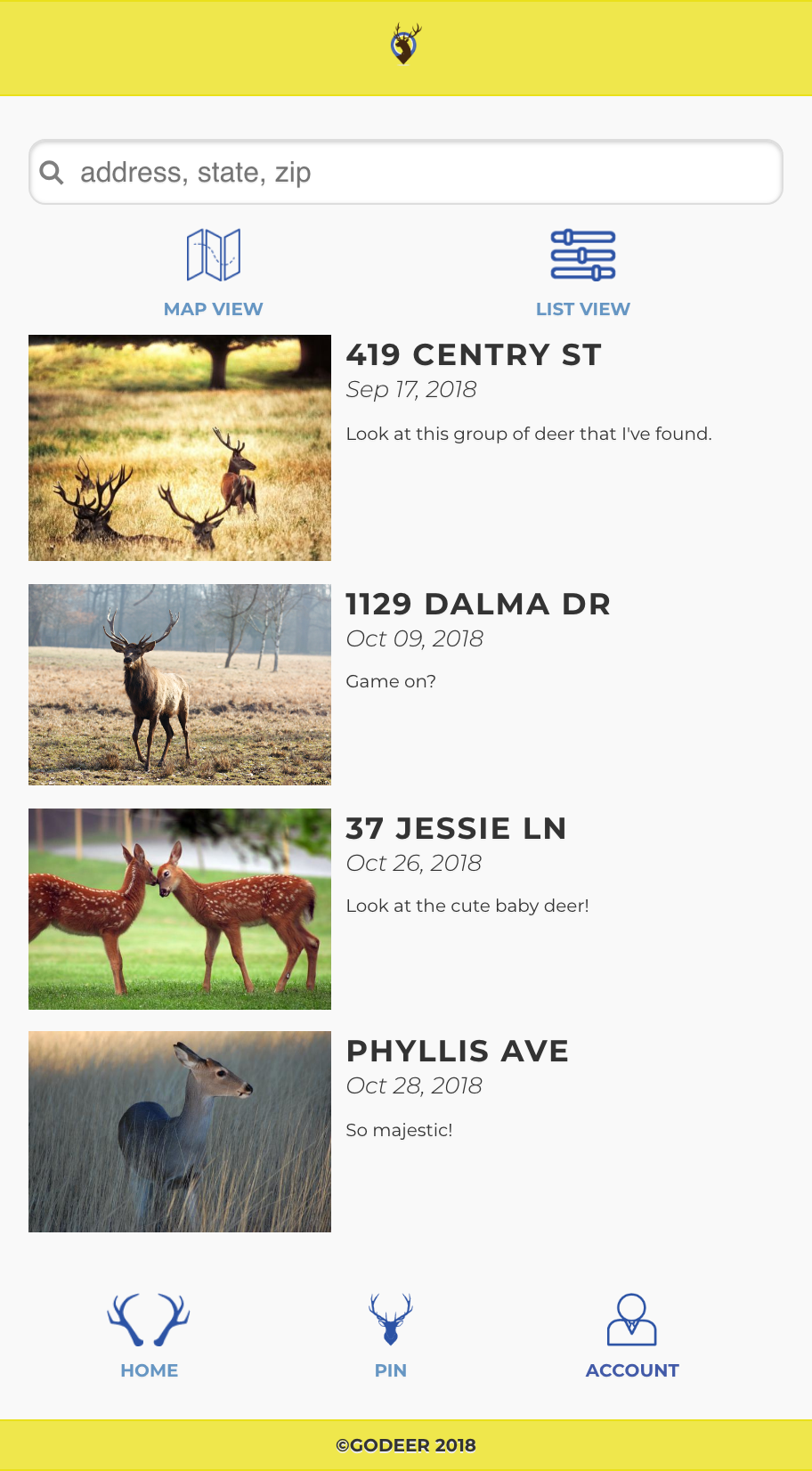 Team Tasks
Myself
Research
Initial Wireframing
Logo Design
UI Element Design
HTML, CSS, and Javascript Coding PDF Designs
Jia F
Research
Wireframe Design
Sitemap
Task Design
HTML and JavaScript Coding